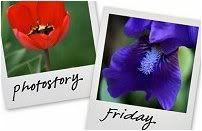 Hosted by Cecily and MamaGeek
This is the only photo I took whilst riding on the London Eye last week.
Yes, the only one.
Why?
Because when I booked the tickets I was suffering from a temporary bout of 'acrophobia amnesia'.
In other words, I forgot that I don't like heights!
I took the photo 30 seconds into the flight, then I realised that I was going to follow that capsule up into the blue and I spent the rest of the flight sitting rigid with fear and gripping the seat.

And this isn't an isolated incident. I also forgot this fact when I went to the top of the Eiffel Tower (never again), the Duomo in Florence (scared witless on the thin stone ledge on the inside of the dome), the Empire State Building (I should never have gone outside), Sugar Loaf Mountain (luckily I went the week before the cable car broke), in a helicopter over the Iguacu Falls (I had to sit in the middle seat) and the list goes on.
You'd think I'd know by now, wouldn't you?