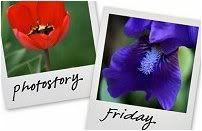 Hosted by Cecily and MamaGeek

Today is
Red Nose Day
. Daughter has gone to school in funny socks and I have agreed to have my photo (with a red nose photoshopped onto my face) displayed on a large screen at school if enough pupils pay to see it! (I know, I know, I must be mad. Hang on. What if they
don't
pay enough to see it? Oh no, didn't think about the implications there, did I?)
Anyway, last night daughter and I also made some red nose biscuits using the recipe from BBC Good Food Magazine (to see the recipe click
here
)
And this is how they turned out:

Guaranteed to put a smile on your face!

And a couple of inches on the waist!

(Have you seen how much butter goes into these little critters?!)
And husband has just gone to work in his dinner suit; he claims he's going as James Bond!
(Only in his head does a dinner suit turn him into Daniel Craig!)
So, what are you doing that's "funny for money"?
In support of Comic Relief, registered charity 326568 (England/Wales); SC039730 (Scotland)