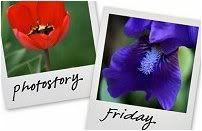 Hosted by Cecily and MamaGeek
Half term - time for a hair cut.
I always have my hair cut in the school holidays. A trim at half terms and highlights in the 'big' holidays.

However, this time I took daughter with me for her
first ever
proper haircut (I've been attacking her fringe regularly with a pair of sewing scissors, but felt it was time she had it cut straight by a professional)
I think you'll agree we were both in need of a trim:



Daughter was ever so good having her hair washed and then she let the hairdresser do her magic:




Gorgeous!


(And we've been playing with the play doh as well.
Can you tell?)