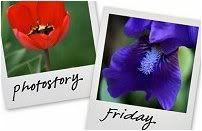 Hosted by Cecily and MamaGeek

There's a bit of a trend at the moment for "cupcakes".

"Cupcakes" seems to be an American word for what we in England call "Fairy Cakes" and in our house Fairy Cakes have never gone out of fashion!
Last Saturday daughter announced, "Let's make Fairy Cakes, mummy!"
Now, when she makes Fairy Cakes, she makes
Fairy
Cakes.
"We have to use the gold cases, mummy. Fairies like gold"
"OK"
"Can you make gold icing?"
"Well, I can make yellow, with that do?"
"Fairies like yellow"
and so, on.
Finally, the cakes were cool enough to decorate and daughter hit the cupboards looking for pink sprinkles, marshmallows, etc.