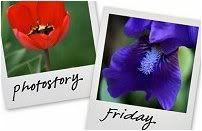 Hosted by Cecily and MamaGeek
Last week daughter got this book from the library:
In the book a boy makes a biscuit bear that comes to life and wreaks havoc in the kitchen at night making lots more biscuit bears.
Of course she wanted to make biscuit bears.

We didn't use our usual
gingerbread recipe
this time, instead we used a recipe of my grandfather's for what he called "German Biscuits":
5 oz butter
3oz sugar
8 oz SR flour
one egg yolk
(Usual method for making biscuits and 15 - 20 mins at 170 degrees)
He used to sandwich two together with jam and then ice the top one. I have seen the recipe in an old cookbook, but described as "Imperial Biscuits". German? Imperial? Why? If anyone knows the origin of these biscuits, let me know.
Anyway, not having any bear shaped cutters I had to make my own bear template from cardboard and use it to cut out the bears. This takes ten times as long as using a cutter - I don't recommend it. After they were baked and cooled she set about decorating them in her usual inimitable fashion.