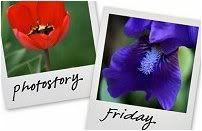 Hosted by Cecily and

MamaGeek





I was going to do a PSF on Hallowe'en today and take a 'Food Porn' picture of my pumpkin cake that I made yesterday with orange cream cheese frosting. However a) I've been too busy to do the pictures and b) it didn't last long enough to photograph it.
So instead I'm going to post about daughter's bedroom which is still awaiting the carpet fitter to refit the carpet after the electricians' visit this week:
My favourite room in our house is daughter's bedroom. It was one of the first rooms we did when we moved in (after the condemned bathrooms) two years ago. After the plasterers skimmed the entire room to a lovely smooth base I painted it a beautiful New England blue colour with lovely shaker style white furniture. We decorated with Thomas the Tank Engine accessories and bought shelves for her toys and books. It looked like this:
and this:


and this:


Last weekend we had to clear out daughter's toys and books so that the electricians could get under the floor to do the lounge lights.
I hadn't realised just how much stuff she had accumulated in her little life.

I am appalled and ashamed at how much she owns. Very little was bought by myself and my husband: the kitchen, the musical instruments and some books. The rest have been presents and hand me downs.
She has been told that she has to get rid of some before Father Christmas will call!!

What a cruel mummy I am!