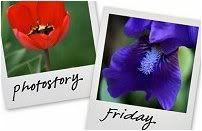 Hosted by Cecily and MamaGeek
Still practising with my (now not-so-new) camera. I was hoping to do a photography course at night school this term, but of course I haven't got the time. (What was I thinking? I can't even manage choir rehearsals once a week!).
Instead I am trying to use PhotoStory Friday to motivate me to try something new each week. I've bought myself a set of macro filters to try some close-ups and here's one of my efforts:
This is my carriage clock which my godmother bought me for my 18th birthday.
It has accompanied me to university, to my first house and now this house.
It is soon to grace the mantlepiece in my newly decorated lounge.
It has been ticking away and swinging its balls
(excuse the expression!)
for twenty-one years.
Twenty one years!!!
Blimey, time flies!