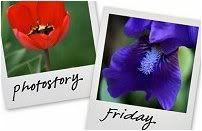 Hosted by Cecily and MamaGeek


For once I don't have to post my PSF at 6.30am before going to work because today is the first day of my half term holiday. Yay!
This week I'm hoping to learn a bit more about my (now not-so-new) camera. Since I haven't got time to do the course at nightschool that I wanted to do, I've bought a book:
"Canon EOS Digital Rebel XTi/400D for Dummies"
Perfect!
No, not the 'Dummies' bit, the fact that it is a book that tells me exactly how to use
my
camera. I've read the first couple of sections and it has given me lots of inspiration.
Last week daughter and I went to a park near my parents and I thought I would put some of my new found knowledge into practice and attempt to capture daughter in full flow.
Not easy!

Even using the setting for three shots per second I kept getting the back of her head, just her legs or closed eyes. However, I did mangage to get one good photo as she was spinning round in a giant yellow tea cup: