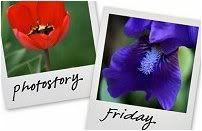 Hosted by Cecily and MamaGeek
Don't be fooled by the title. It isn't red, yellow, russet or gold. Oh no, that's not the colour of autumn round these parts.
I decided that for Photostory Friday I would take my camera out and about and photograph the colours of autumn. So last weekend daughter and I set off for Dunham Massey (whilst husband was at the football, of course) and prepared to take photos of russet, gold and bronze trees and leaves. However, when we got there, not only had the River Bollin flooded the car park and we had to wait to get in to the place, when we did get in most of the trees were still green!
However, in amongst the unobliging green trees I spotted a gnarled, dead tree. It was reaching for a sky which was a fantastic colour of blue. So blue it was almost unbelievable. So that is my colour of autumn.
I promise there is no photoshopping going on here: