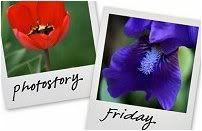 Hosted by Cecily and

MamaGeek






When I was pregnant with daughter I wondered what my baby would look like. Who would she take after? What colour eyes would she have and what colour hair? Of all the things I imagined, I was not expecting this:
Strawberry blonde curls!



Yep, she is neither blonde, nor red, but a true strawberry blonde. How amazing is that?
Daughter's hair attracts a lot of attention. People stop me in the park, the supermarket, the Post Office and comment on it. People have even commented on this blog about her hair.
I hope she doesn't grow out of it.

Makes a great subject for a photo!