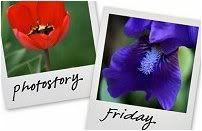 Hosted by Cecily and MamaGeek

Since Adam was driven from Eden

Mankind has been counting the cost

And that's why we love to have gardens

That mirror the beauty we lost
This is the story of Working Mum's attempts to have a little bit of Eden ............
Working Mum bought a house and inherited a very overgrown and unloved garden. The lawn was mostly moss, weeds and a weird black fungus that provoked allergic reactions in children. The bottom of the garden was ten feet of overgrown shrubs and trees that had seeded there themselves (mostly sycamore). Last summer she had the whole lot cleared, which revealed this:
Working Mum was not depressed, she set about trying to revive the lawn with lots of treatements, forking over, sanding, etc. She had new fencing put in and spent hours painting it 'Red Cedar'. Her husband created a play area for daughter on the left hand side, laying flags, buying a playhouse, assembling a swing and laying membrane and bark over the whole area.
She then had this:
Over Christmas Working Mum dreamed of a fabulous stone patio in the other corner. She studied catalogues, magazines and gardening books. She designed a beautiful, tranquil area to sit and contemplate. To have barbecues with friends and to sit in the evening sun drinking Pimms.
Finally the patio man has finished laying the stone and Working Mum now has this:
There is still a way to go to create her little bit of Eden, but I think you can safely say that she is getting there!

All she needs now is sunshine...............

............ and Pimms!