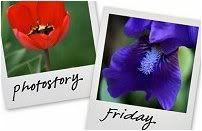 Hosted by Cecily and MamaGeek



I've joined Cecily and MamaGeek's Photostory Friday. I'm hoping to have new photos to post when I get to grips with my new camera, but until then I'll post a few of my old favourites taken on film and scanned in. Like this one:




In 1996, before arrival of daughter, we took a safari holiday in Kenya.

I took this photo of the migration of the wildebeast in the Masai Mara on a late afternoon safari.

I love the composition: the buzzard in the acacia tree, the line of wildebeast, the mountains in the distance and the colours of the savannah.

It evokes strong memories of an unforgettable adventure.

One day I will take daughter................................