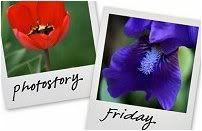 Hosted by Cecily and MamaGeek
I've been playing with my new camera. Oh, how much I have forgotten about photography since putting away my film SLR and using a compact digital. My dad, who used to be a very keen amateur photographer, taught me on his cast-off 35mm cameras and let me help him in his dark room, starting a lifelong love of photography.
I asked him for some tips on getting to grips with my new camera and he suggested I set myself a theme and try different settings, lightings, lenses, etc. I looked in my fridge for inspiration (as I often do) and it hit me:
What typifies an English summer?
English Strawberries!
And what goes perfectly with English strawberries?
Scottish raspberries!!
They were then chopped and mixed with cream and meringue to make a lovely Eton Mess which disappeared so quickly I didn't have time to photograph it!
So there you have it, photographs
and
dessert!
Working mum multitasking!
Addendum (see I know Latin!) 21 June:
For anyone who doesn't know, here's how you make
Eton Mess