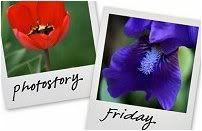 Hosted by Cecily and MamaGeek
No time for a new photo this week (see my
list of jobs
!) so I've dug out an oldie that I love:

I took this at my brother's wedding in the Lake District in June 2006. Daughter was only just turned two. It was a glorious day and I was snapping randomly at the reception when one of the bridesmaids gave daughter her bouquet. I quickly took this picture.
It looks so natural and unposed.
Also, I love the way she is holding her daddy's hand.
Who knew she would turn out to be a child-trampling worm-kisser?